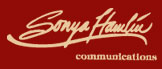 For speaking engagements and all media inquiries please contact:
Adria Belport
203-853-9100
ABelport@gmail.com


<!img src="/images/page/photo.jpg" width="236" height="360" align="right" style="margin-left: 10px; margin-bottom: 10px;"> Sonya Hamlin is a nationally recognized communication and jury expert in many phases of effective communication, a well-known television contributor, Huffington Post blogger, author of five books and actress.

Starting as a dancer, choreographer and musician, she went from being chairman of Radcliffe and Harvard's dance department to a two-time Emmy Award winning television career and onto her pioneering work in courtroom communication and trial consulting as well as the world of business and media communication, lecturing at graduate schools both here and abroad and authoring five books during all these activities.

TELEVISION: Sonya Hamlin is a two-time Emmy Award winner for her TV hosting and documentary films. She is elected to the Massachusetts Broadcasters Hall of Fame. Her groundbreaking daily talk show in Boston was on for eleven years. Her many awards include the Japan Prize for International Educational Television, representing the U.S.; the Ohio State TV award and a declaration of Sonya Hamlin Day by the Mayor of Boston. Her works are being collected and archived by Boston Univ. Library.

As a communications and jury expert, she appears regularly on network television and radio, analyzing communication issues in business, politics, current trials and media trends. Known for her wit, and filled with surprising techniques for audience involvement, she is much in demand as a speaker, coach and television contributor.

BUSINESS: She provides leadership coaching and conducts seminars and consults privately with CEOs and senior executives in many corporations, among them American Express, Bayer Corp, Bristol-Myers Squibb, Citigroup, CIGNA, DuPont, Ernst & Young, GE, IBM, Monsanto, MTV, Nickelodeon, Sony, the Commonwealth of Massachusetts and the U.S. Government.

Sonyas' best selling books, the latest one being How to Talk so People Listen: Connecting in Today's Workplace (HarperCollins), are also published in Russia, China, Poland, Turkey, the U.K., Canada, Brazil, India & Indonesia.

TRIAL ADVOCACY: A jury expert and consultant, Sonya is an acclaimed pioneer in the field of courtroom communication, having created the first such course at the Harvard Law School. She lectures worldwide and works on cases with law firms, consulting on juror attitudes and prejudices, on advocacy skills, witness preparation, expert testimony and expert witness coaching, developing strategies and creating visual presentations of evidence. She teaches advocacy skills - both oral and visual- across the U.S. and abroad. Her landmark book, What Makes Juries Listen completed ten printings; What Makes Juries Listen Today is now a classic, and Now What Makes Juries Listen(ThomsonWest Publishing) her latest book, is now on Kindle.

LECTURER: Sonya has taught communication skills at Harvard's Law School, Kennedy School of Government and Graduate School of Ed.; Boston University's Medical School and School of Communication; the Wharton School; Sloan School of Mgmt./ MIT; University of Texas and NYU's Law Schools; Brandeis International Business School as well as at Oxford and Cambridge in the U.K.