For speaking engagements and all media inquiries please contact:
Adria Belport
203-853-9100
ABelport@gmail.com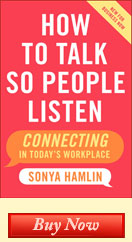 "... provides thought-provoking insights and workable solutions to communicating with others in a changing world. Hamlin highlights challenges like understanding the generations, integrating a multicultural workforce, and communicating effectively in an impatient, visually driven society. She also offers techniques, both graphic and verbal, for reaching a given audience. Her chapter on handling one-on-one encounters is particularly helpful for both managers and subordinates. This book packs a lot of pertinent information on a practical topic. Highly recommended."

-Library Journal (starred review)
If new technology helps us reach each other faster than ever, why is it now so hard to get people to pay attention?
In her new book, HOW TO TALK SO PEOPLE LISTEN: Connecting in Today's Workplace, Sonya Hamlin warns us:
We need to dramatically re-think how we communicate given the obstacles to getting heard in today's workplace.
Hamlin, whose communications career has morphed from Emmy award winning talk show host to Harvard lecturer to coach and consultant to Fortune 100 executives, makes sure that clients adapt to the seismic shifts in the workplace.
Her book presents her strategies for success in an age where the workplace is less formal, hierarchies have flattened, different generations have completely different goals and reference points, and everyone's attention span is down to one and a half minutes…
BUT-- you can't explain, persuade or sell anything - your ideas, your product, your services, yourself-without personally presenting it and getting others to listen.
And we're getting pretty bad at doing that effectively…
Here are just some topics that she tackles in HOW TO TALK SO PEOPLE LISTEN:
The surprising, dramatic and often alienating differences Baby Boomers, Generation Xrs and Generation Yrs bring into the workplace. Hamlin gets to the bottom of what each generation must know in order to communicate with each other and bridge the gaps.

See the comparison charts she made of how the three generations react to workplace habits, needs and their attitudes to various aspects of life..


Why everything people were taught about making a presentation or speech has been upended-and what the new rules are. Sonya gives people unique artillery for grabbing an audience right at the top and making them active participants -even using the gutsy approach of saying the audience seems lost or bored and to find out what's happening so you can change course.


Why telling the truth and coming through as a real person is not only good business but creates credibility and gets immediate attention. Relating personal experiences makes people far more memorable than colorful bar graphs do. Admitting that we don't always have every answer helps people relate. Lots of examples of how to connect with people.


Why "what the boss says goes" doesn't go far as it used to-and why bosses need to completely re-think their communications style. Hamlin tells readers what she tells corporate clients now about successful meeting techniques, dealing with hostility and misunderstanding, and her special pre-think strategies for one-on-one interactions.


The hidden effects of technology on our ability to talk, listen and get each others messages. How television, email, the Internet and cell phone text messaging have affected our ability to talk and be heard. We don't interact any more and the valuable information we get from body language and tone of voice are now missing from our decision making and judging who people are and what they really mean.


Specific techniques, scenarios and examples for running effective meetings, giving dynamite presentations, designing strategies, handling the Q&A period, managing successful one-on-one encounters, capturing and involving audiences and making yourself understood in today's technological world are all covered in this easy-to-read, succinct and efficient book, full of humor and illustrations, making it unique for today's business needs, anywhere.
---
TABLE OF CONTENTS
Enter Technology, Exit Talking

What's New in Communicating?
--What You Need to Know First

What's New in the Twenty-first Century
-- Even Hello Has Changed
--The Biggest Issue

How Communicating Has Changed
--The Communication Revolutions
--How It Used to Be

The New Techniques of Telling
--Television
--What Television News Has Taught Us

Computers and the Internet
--Major Effects on Communicating

Wrap-up: How Communicating Has Changed
--Implications for Business Communication
--What Else Can Affect Your Audience





Generation Gaps and Diversity in Today's Workplace

How are Boomers, Gen Xers, and Gen Yers Different?
--The Issues
--Differences in Family and Life Experiences
--Different Views of the Establishment
--Cultural Icons Tell It
--Basic Differences in Priorities and Attitude
--Careers and Work
--The Generations at Work (chart)
--Generational Differences in Getting Information
--Perception of Time

Thoughts about Information Technologies
--What All This Means to You

Our Multicultural Workforce and Communicating Now
--The Mixed-Population Phenomenon
--Becoming Americanized
--What Immigrants Bring: Issues and Obstacles
--Handling All This at Work
--Transcending Language Barriers





How to Get Anyone to Listen to Anything

Getting Attention Is Hard

What Makes People Listen
--What's in It for Me?
--Who's Telling?
--How Do You Tell It

Verbal and Nonverbal Communication
--How They Work; What They Do
--Words vs. Body Language
--Choosing Your Words

How People Feel About Learning
--Handling Resistance and Fear of Learning

Summing Up





The Pre-Think Chart: Strategizing One-on-One Encounters

Pre-Thinking
--A Typical Work Encounter: What Can Go Wrong and Why

The Pre-Think Chart
--The Basic Idea
--The Process
--Section One: Goals
--Section Two: Emotions
--Section Three: Expectations
--Expectations: The Other Side

The Other Side: A Guide for the Summoned
--Don't Be a Victim
--Other Things You Can Do
--Summary for the Summoned

The Completed Chart
--Pre-Thinking Results

Make Your Own Chart
--Analyze a Past or Future Encounter of Your Own
--User Tips for Your Pre-Think Chart

The Pre-Think Checklist
--Make a Chart
--Strategize from Your Chart





Close Encounters: One-on-One

Openers
--Before the Meeting
--Opening Techniques: First Moves

Presenting the Substance
--How to Begin
--Motivate Your Listener!
--Ask Before You Tell
--Dialogue, Not Monologue = Success

Handling Problems, Issues, and Negative Reactions
--How to Criticize
--Handling Anger and Hostility
--Getting at the Truth
--Handling Boredom and Inattention

Closure
--Recap and Clarify
--Troubleshoot Areas Still Not Resolved
--Agree on Next Steps
--Follow-Up: Confirm in Writing
--End on a High Note!

Checklist for One-on-One Encounters
--Before the Meeting
--Openers
--Presenting the Substance
--Handling Problems, Issues, and Negative Reactions
--Closure





Seeing Is Believing: Making Your Message Visual

Why Visual?
--Take a New Approach

How Visuals Affect Your Audience

Making Messages Visual
--What to Show, What to Tell
--Always Personalize Your Message
--Visual Take-Aways

How to Design Visual Messages
--Getting Started
--Exhibits Can Be Simple
--Choosing the Medium
--A Few Basic Design Principles
--Making Audiences Look: Effective Presentation of Graphics
--Effective Use of Color

Making Your Message Visual, Verbally
--Using Words to Make Images





How to Create Great Presentations

The Challenge

Planning Your Presentation
--Getting Started
--Know Your Audience!

The Know-Your-Audience Questions: Don't Speechify Without Them!

Know-Your-Audience Speedy Checklist

Who's Telling?

How to Tell It: The Techniques of Telling
--Organizing Your Message
--How to Create Order in Your Message
--What Speakers Do Most Often That Confuses Us
-- Building a Speech Outline That Makes Sense
--Three Approaches to Organizing Material
--Don't Just Tell Me - Show Me

Best Ways to Lay Out Your Presentation on a Page
--Why Notes Matter
--Written Speeches vs. Oral Presentations

Writing Usable Speech Notes and Outlines
--The Basic Process





How to Deliver Great Presentations

The Techniques

Openings
--Who Are You?
--Stage Fright
--Good Getting-to-Know-You Openings
--Why Should They Listen?
--What Will They Hear About and How

Content: How to Explain and Persuade
--Presenting in an Orderly, Organized Fashion
--Techniques for Explaining New Information
--Speaking and Language Skills
--Activate Your Audience

Closings





The Art of Q & A

Why Do It?

Preparing for Q & A
--Understanding Your Audience

Answering Techniques
--What Usually Happens
--Why People Don't Ask
--Helping People Get Started

Sonya's 13 Responses for Success in Q & A





Meetings: How to Lead and How to Be Heard

Why Meetings Don't Work
--Skills you Need to Learn and Sharpen

What Meetings Can and Should Accomplish

Planning a Meeting
--Define Your Objectives, Large or Small
--Question Your Meeting

Schedule a Meeting
--Best and Worst Times to Have Meetings
--Length of Meetings
--Location
--Which Day to Choose

Creating the Agenda
--Input from the Group
--Number of Agenda Items
--Prioritizing and Positioning
--Time Allotment

Leadership Skills for Handling People
--Basic Personalities at Meetings

Three Vital Meeting Skills
--Listening
--Supporting
--Disagreeing

Communication Skills for Meeting Leaders
--Getting the Group's Attention
--Staying Focused
--Engaging the Nonparticipant
--How to Cut People Off
--Handling Controversial or Ticklish Subjects
--Getting Agreement
--When Meetings Get Out of Hand
--Handling Egos and Conflict

Communication Skills for Meeting Participants
--Come Prepared
--Sit in a Powerful Place
--Look Confident and Interested
--How to Speak Up
--Ask Questions
--If You're Criticized or Attacked

---
PRAISE FOR HOW TO TALK SO PEOPLE LISTEN: Connecting in Today's Workplace
"Your workshop on 'Interacting with the Media' was memorable, a high impact and very educational experience...the participants greatly valued your fast-paced, information packed session… they also appreciated the tangible, individual advice that you provided each of them. Your Public Speaking Workshop, conducted with clarity, warmth and humor… made participants learn a lot not only about communications but also, through your example, about women's leadership."

-Fran Streets
Past President
International Women's Forum



"How To Talk So People Listen gets right to the point, in the same straightforward style that has made Sonya Hamlin a trusted and valued advisor to scores of senior executives. It's a must-read for any executive who understands the importance of speaking clearly and persuasively in a marketplace where the proliferation of communications outlets makes it increasingly challenging to be heard. And for anyone on the way up…"

--Jason H. Wright,
Senior Vice President,
Communications & Public Affairs,
Merrill Lynch & Co., Inc.



"Sonya has done it again!! Sonya Hamlin, the communicator's communicator, tells everyone what she has long taught the pros. Written in clear format and style that itself makes her point, Sonya Hamlin talks to us. As we read, we smile, we scribble notes, and, boy, do we learn, even those who thought they already knew. Insightful, wise, intensely practical, unfailingly on target and a joy to read. Bravo! A must read for anyone who works and must therefore talk."

--John McGoldrick,
Executive Vice-President,
BristolMyers Squibb



"Sonya Hamlin's new book alerts us to these facts: The web has not only changed the way we do business, it has changed the way we exchange ideas and absorb information. Traditional communications techniques have been rendered obsolete. Knowing how to present yourself and your message in a personal, compelling and differentiated way is a powerful advantage in today's networked society. Making yourself worth being listened to is a skill that can be learned and Sonya is a great teacher. Her book is filled with great information and examples of how to do that."

--Heidi Miller,
CEO of Treasury and Securities Services
JP MorganChase



"Sonya's book does an excellent job of identifying the different communication styles and strategies between Generation X and Y and baby boomers, all of whom are working together in today's diverse organizations. Yet the fundamental message is about the importance of face-to-face interactions and How To Talk So People Listen details simply and clearly the essentials for effective communication whether talking one-to one or presenting to a room full of people. The book underscores the importance of listening and provides an outstanding section on leading successful meetings. How To Talk So People Listen is a practical guide for thinking strategically about a range of communication interactions. This book is a tremendous reference for anyone who values the art and skill of effective communications."

--Professor Neal Hartman,
Sloan School of Management
MIT



"Between the covers of this book, Sonya Hamlin has covered everything a person needs to know how to communicate effectively in our electronic age. Whether you're an entry level, in middle management, an entrepreneur, starting your own business, or a senior executive in a Fortune 100 boardroom, Sonya's comprehensive analysis of how we understand one another will prove indispensable to anyone who wants to get ahead."

--Marcy Syms,
CEO,
SYMS Corp.



"A fresh look at the communications challenges in today's workplace, combined with practical tools to improve spoken communications. Chapter 2 is so original, giving unique insights into the communication issues in today's workplace - the generation gaps and our multicultural workforce - and how to solve them. If you are looking to communicate, and accomplish what you want in business, you must read this."

--Al Zollar,
General Manager,
Tivoli Software,
IBM



"As Sonya says, you still can't sell any idea, product, service or yourself unless you appear and tell, explain and persuade in person. Especially true as she describes the communication issues that generational differences and today's diverse multicultural workplace bring. Her book tells you how to handle all this and I strongly recommend it."

--James T. Stamas,
Dean of Boston University
School of Hospitality Administration



"Wow-what a guide! How much more effective an employee, coworker, and supervisor I would have been in the past years had I had this manual at my side. The conversational delivery is so comfortable, and it helped me discover the places where I have been ineffectual, especially in communication complex issues. Thanks for putting into writing what so many of us need to know to be more effective in the workplace."

--Dr. Stephanie Leslie,
Molecular Scientist



"What I especially enjoyed is that this book has something for everyone. Baby boomers, generation Xers and Y's will learn how to best to communicate with their own and different generations. Organized individuals will appreciate the clear structure that includes tools for planning ahead, while those that prefer spontaneous conversation will be better equipped to navigate through uncharted waters. There are great tips for how to improve everything from one on one conversation to large presentations in a friendly or hostile environment. My daughter is taking a course in managerial communication at Cornell, I would love for her professor to see and use this book. We all can become better communicators by reading How To Talk So People Listen."

--Stephanie Sonnabend,
CEO and President,
Sonesta Hotels International



"Sonya Hamlin's book says Stop, Look, and Listen! High tech communication is efficient but really ineffective in getting yourself and your ideas heard and understood. With work-days typically spent in meetings and face to face encounters, trying to explain and persuade, this book is a life-line of practical and wise advice on how to get yourself and your message across. Whether your role is creating, supporting or selling ideas and strategies, Hamlin's book is definitely time will spent in the pursuit of success and making yourself heard today."

--James Palmer,
Professor of Film Studies and Director,
Conference on World Affairs,
University of Colorado